This shop has been compensated by Collective Bias, Inc. and its advertiser. Product was provided by the client for review; however, all opinions are mine alone. #WorldsSmartestToothbrush #CollectiveBias
Gift giving can be a bit taxing, particularly for the person who wants little and has just about everything. Years of marriage has taught me to pay attention to details all throughout the year to better gauge what would be a good gift for my husband. However, there is one route that can never steer me wrong. Anything tech-driven seems to be a hit.
Me personally, I'm an analog girl in a digital world. But eh hubs? He's usually on top of all the trends and typically impressed by the newest gadget on the market. This year we've been practical gift-givers and gifting each other with some cosmetic dentistry we've both been wanting for years. We're focusing on enhancing our lives with intentional buying and gift-giving. So when I learned about the new Philips® Sonicare Diamond Clean Smart Electric Toothbrush, I knew I had a winner on my hands.
We switched over to Sonicare brushes for the entire family last year at the request of our hygienist and it has made all the difference! I decided the hubs travel case could use a makeover and why not amp it up with a fancy new toothbrush for his pearly whites? This #1 dental recommended brush is jam-packed with enough technology and conveniences to make any tech-savvy dad geek out. With four brushes to take care of your teeth, gums, and tongue, it's your one-stop shop for oral care.
Its sleek style is by far the best-seller AND the reason I was able to sell my husband onto this new travel case I put together. If left to his own devices he can continue to travel with clear plastic bags forever (you know the kind). I lured him in with this top of the line toothbrush that charges (you ready for this?) in a modern style glass. Yup, it's charging looking all fancy…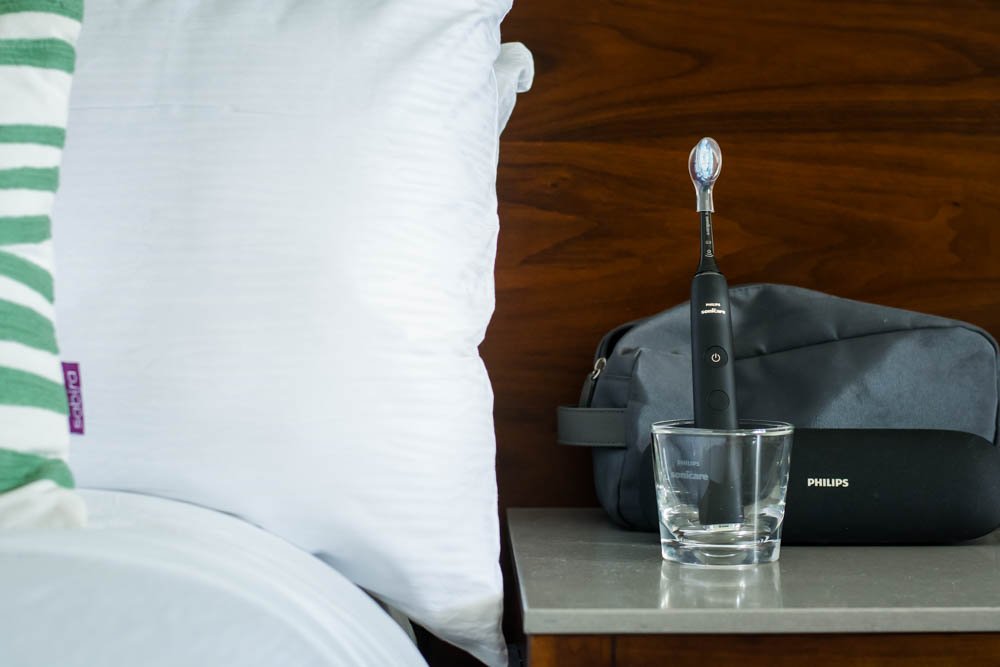 Hover over the image above to start shopping for your tech-savvy dad!
The appeal of this modern Bluetooth technology was enough to sell my husband on "upping" his travel game. I'm proud to say he is now onboard with all of my travel additions! Here are a few items to include in the Tech-Savvy Dad Travel Kit:
Fancy toiletry case/bag, a big improvement from a sandwich baggie.
Facial Scrub – exfoliating is important, and once he gets a feel for that baby soft skin, he'll be sold!
Facial Serum – Especially important for the man that has trouble staying hydrated.
Beard Brush – for the burly mountain man in your life.
Face cream – I pick one with SPF so we can pull double duty.
Pomade – Since upgrading from a gel, a pomade can change a man's outlook on life.
I'm convinced Sonicare can make anything happen!
You can find the Phillips Sonicare Diamond Clean Smart Electric Toothbrush at your local Bed, Bath & Beyond.
Essentially yours,
Erika
Disclosure: This is a sponsored post. As always, all opinions expressed here are 100% my own.
We've become a family who does brunch quite often. I enjoy finding new, family-friendly places to kick back on a Sunday with the family. This particular Sunday we were enjoying a visit from my aunt in town for the weekend. It's rare we are all in the same state so we decided to show her a bit of the town. Mizner is the perfect place to spend your afternoon filling up the belly, then taking a stroll along the fountain area.
We started at Tanzy (attached to the fabulous iPic theater). I'll be honest at first, I didn't picture Tanzy as being a place to take the kids. With two rambunctious (hungry) boys, I like to keep it simple. Get in and out quickly, and no one gets hurt. 🙂
The staff was incredibly accommodating, and our server (Julie) was an experienced nanny. Bonus! If that doesn't entice you, the menu is enough to keep you coming back for more. Starting with appetizers we munched on Burrata with strawberry and arugula bruschetta with a balsamic glaze. 
Since we were a group of five we decided to add another appetizer. Staying true to my first love (cheese) we added some Burrata and Crispy Prosciutto accompanied by figs and arugula with crispy bread. A perfect blend of salty and sweet. Salivating yet???
The benefits of going with the family are getting to try a bit of everyone's dish. In total, we tried the Infamously Decadent French Toast:
The Three Egg Omelette came in an adorable personal size cast iron skillet with bacon and toast. This was perfect for my boys to enjoy, and us parents to "taste."
My husband enjoyed the juicy Tanzy Burger. 10oz of ground Angus, applewood smoked bacon and beefsteak tomatoes. Perfect for the hungry dad!
In a mood for pasta, I gave the Pappardelle a try. This is comfort food at its finest folks. This slow cooked bolognese with fresh ricotta really hit the spot.
I sipped on the house favorite, the aptly named "Boca Mimosa." A fun twist on a traditional mimosa with blood orange in place of orange juice. It was perfection!
The real star of the show at Tanzy are the assortment of incredible desserts. We pretty much gave everything a try. You know, for research… Chocolate cake is always a must for us, this was topped with vanilla gelato and indulgent caramel sauce (incredible!).
I'm a huge bread pudding fan, I'm also a red velvet cake lovah… so this was a no-brainer.
The Monkey Bread Babka was originally for the kids, but I think we may have finished it all off.
Tanzy brunch as a whole was a hit for the entire family. Come for the bottomless mimosas, stay for the BABKA!
Essentially yours,
Erika
---
Tanzy is located in Mizner Park at 301 Plaza Real Boca Raton, FL 33432. You can visit them online, or make reservations by phone at 561-922-6699